Reading Time:
2
minutes
Welcome to a new year, Fabulous users! How are you feeling? Inspired by the possibilities? Intimidated by your New Year goals? Maybe a little of both?
January is a favorite time of year for us at the Fabulous. While there's nothing stopping us from making new goals at any time, there's something powerful and encouraging about starting new adventures at the beginning of a new year. As such, it's a big time of year for new goals, and we're here and ready to help!
That's why we're introducing our latest app feature: The Golden Triangle.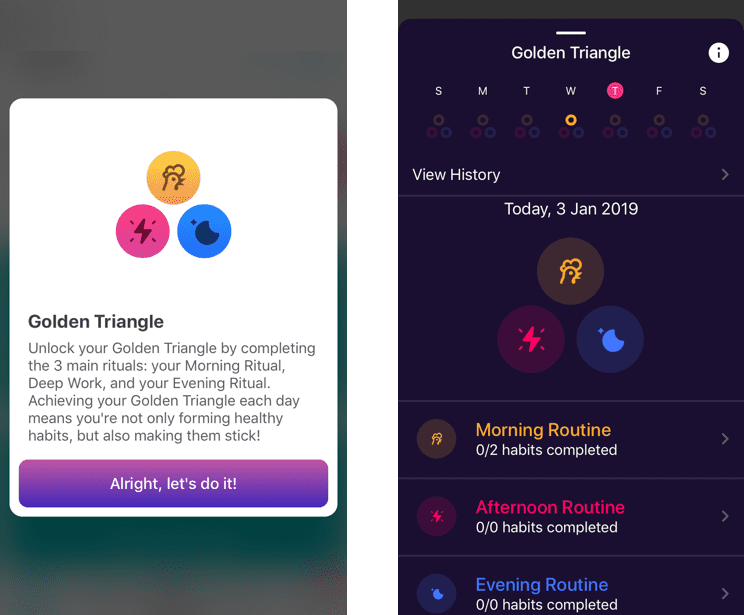 What is The Golden Triangle?
One of the biggest aspirations we have going into a new year is to take better care of ourselves. Whether that means exercising, improving our diet, or just taking the time to practice better self-care, most of our New Year goals center around being kinder to ourselves.
The biggest obstacle to meeting this goal? We simply forget to do it! Our world is the busiest it's ever been and having to carve time for ourselves out of our frantic days can feel impossible.
That's where the Golden Triangle comes in. The Golden Triangle is composed of three daily rituals: Your Morning Ritual, a period of Deep Work, and your Evening Ritual. As you complete each of these daily rituals, you'll see a visualization of your progress in the form of—you guessed it—a glowing golden triangle!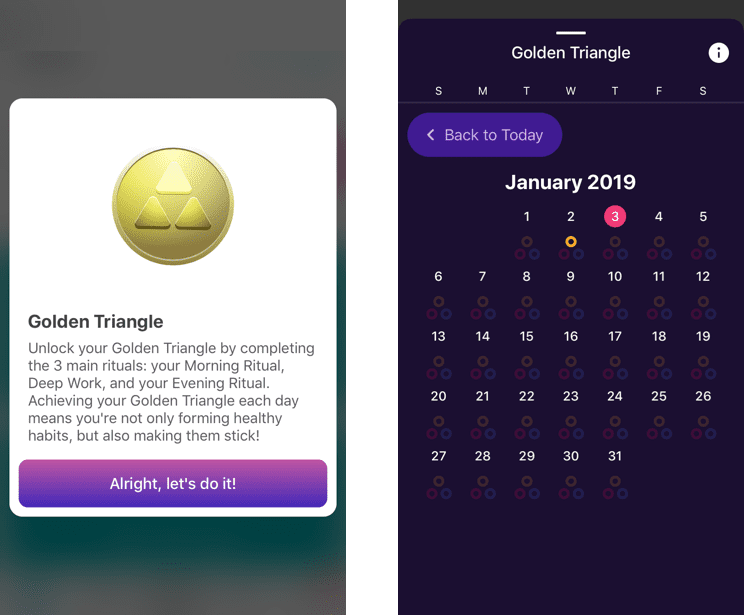 Why does it matter?
The Golden Triangle is meant to serve two key purposes. First, it's a daily reminder for you to push the pause button on your life and take a moment to do something for yourself and your wellbeing. Even if it's as simple as taking a minute to Just Get Moving or taking a deep breath, the point is that you're doing it for YOU.
Second, The Golden Triangle is a visualization of your success. There's nothing more satisfying than a sense of completion. That's why it feels so good to check things off a to-do list. Once you start illuminating that Golden Triangle, you won't want to stop until it's complete, and you'll be building life-long, healthy habits as part of the process!
How do I start?
Check it out on your iphone and apple watch devices today. If you're not a Fabulous user yet, why not give us a try? And don't worry Android users, the Golden Triangle will be coming soon to you as well.
Let's make this new year a golden one!