Reading Time:
2
minutes
We are now in the thick of the autumn season and 2018 is winding down. As the end of the year approaches, we begin to reflect on the months that have passed as we prepare for the beginning of a new year. What did we do right? What would we like to improve?
These reflections can lead us down one of two paths: We can either see a year of regrets, or a year of moments to appreciate. Only one of these paths, however, is truly useful to us.
Regrets can consume us. They make us feel like failures. But expressing gratitude for the things that shape us into who we are can ease our guilt and make us happier, healthier people.
It's with this reflective mood in mind that we at Fabulous would like to present you with our latest challenge: A 14-Day Gratitude Challenge, all about giving thanks to the people, experiences, and late-night Amazon purchases that made your year… well, fabulous!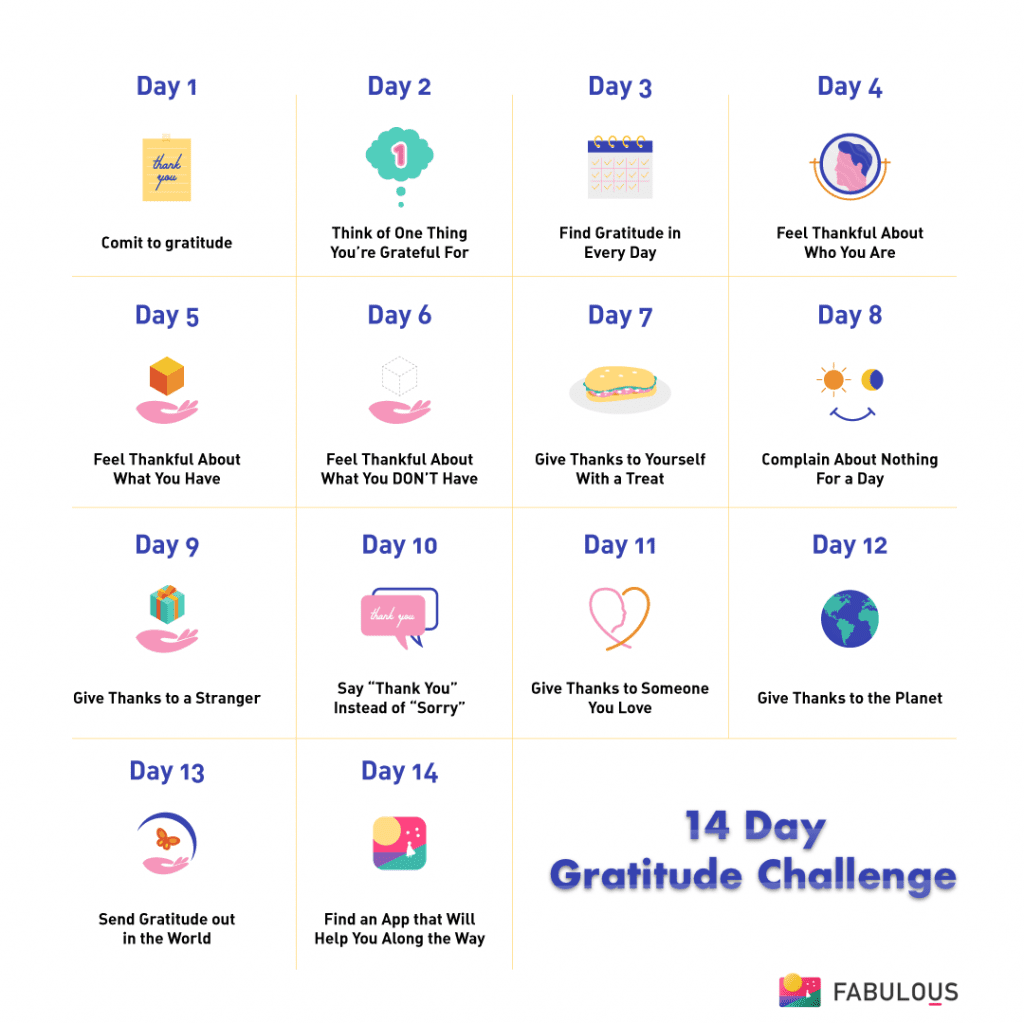 The Daily Giving Thanks Challenges:
Commit to Giving Thanks

Your First Day of Gratitude

Find Gratitude in Each Day

Feel Thankful About Who You Are

Feel Thankful About What You Have

Feel Thankful About What You DON'T Have

Feel Thankful About Someone You Know

Give Thanks to Yourself With a Treat

Complain About Nothing for a Day

Give Thanks to a Stranger

Say "Thank You" Instead of "Sorry"

Give Thanks to Someone You Love

Give Thanks to the Planet

Send Gratitude out Into the World

Feel Thankful About What You've Learned
Day 0: Committing to Giving Thanks
If you're interested in participating in the challenge, there is only one thing you need: A notebook. Whatever notebook you choose will become your gratitude journal for the next two weeks. Pick something that feels special to you, something you'll look forward to writing in. You can also use your current Fabulous journal if you have one from a different challenge or journey.
Once you get a notebook, sit tight and keep an eye on our blog as we post new challenges each day. We also highly encourage you to invite a friend, or to actively participate in our social communities, to make the challenge more fun (and keep you more invested in completing it)!
Be sure to tell us on social media if you're participating. Use the #EverydayFabulous tag and follow us on Facebook, Instagram, or Twitter. We'll be watching and might even share your post!
We love hearing from you guys. You're the reason we do what we do! And we're very, very grateful to have such a fabulous community.
So, from all of us at Fabulous, thank you! And good luck! We'll be back tomorrow with your first daily challenge.
Already a master of gratitude? We have plenty of other challenges! If you're worried about holiday feasts taking a toll on your healthy eating habits, our Clean Eating Challenge might be able to help. Or maybe our Decluttering Challenge to help you make space for all those upcoming holiday parties and gifts!